Have you wondered why Grafana is so widely adopted? It is a unique open-source solution used for the analysis of massive sets of data and monitoring servers or applications. One of the most useful features is the customizable dashboards. Grafana dashboards allow efficient visualization and analysis of organized time-series data from multiple data sources. Some supported data sources include AWS CloudWatch, Elasticsearch, Azure Monitor, InfluxDB, MSSQL, Prometheus, etc.
A Grafana dashboard is a collection of multiple panels arranged in rows. These dashboards organize and make sense of complex data in real-time. The most common use cases of Grafana dashboards include server monitoring, weather forecasting, performance testing, billing forecasting, and much more. These sharable dashboards make it easier for teams to collaborate with the available information.
Why do you need to convert Grafana Dashboards into reports?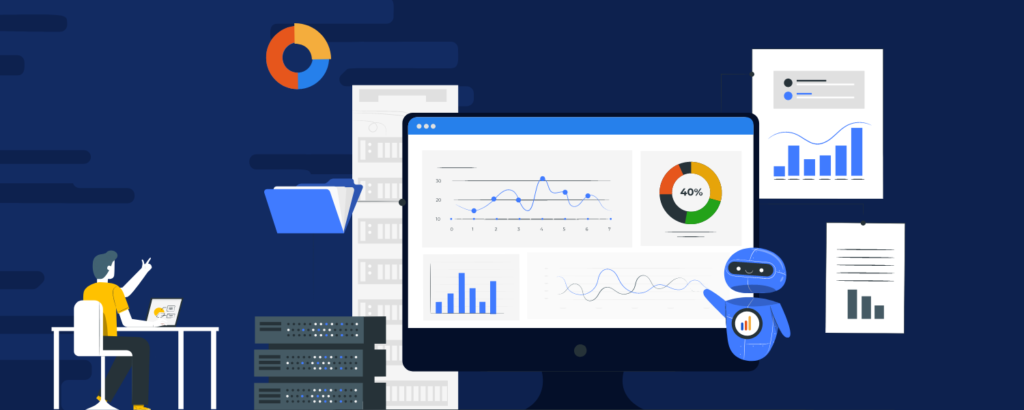 Organizations that have set up dashboards in Grafana must distribute the dashboard information to managers, customers, or operations teams. However, not all stakeholders have access to or the inclination to sit in front of Grafana dashboards.
To make the data available, dashboards need to be converted into sharable reports. Some advantages of reports are:
Reports can unlock data locked up in dashboards and make it available to a larger audience.
They enable stakeholders to make business decisions without Grafana dashboard access.
With reports, you can get access to both historical as well as real-time data.
Therefore, businesses of all sizes distribute Grafana information to stakeholders internally within their companies and externally to their clients through reports. By delivering the right information to the right users at the right time, reports help Grafana users to make informed decisions and better manage their business operations.
How to convert Grafana dashboards into reports?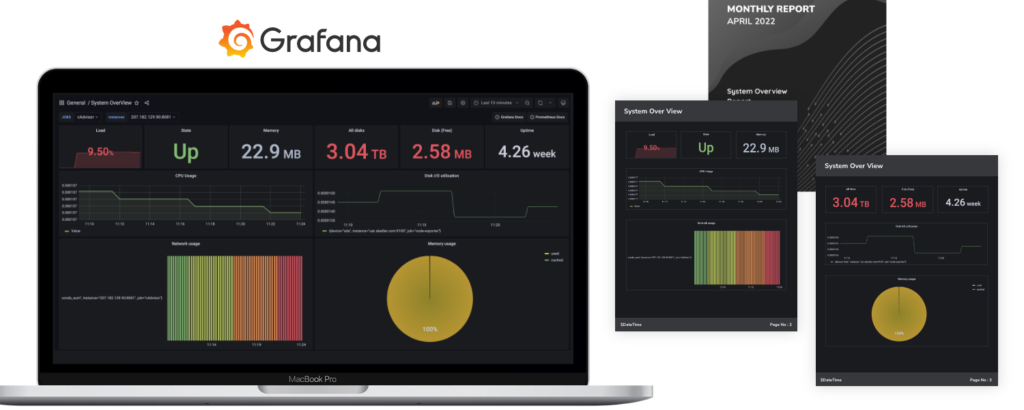 There are two main ways of converting a Grafana dashboard into reports:
Code-it-yourself solution
No-code solution
Code-it-yourself
You can write a code yourself for generating Grafana PDF/CSV reports. The advantage of this solution is mostly its flexibility and personalization. Since you're doing it yourself, it will perfectly adapt to your agency with your functionalities and business data in a single custom-made report.
If you are already doing the coding by yourself, you are aware of all the struggles that come with it.
It takes up a LOT of time, money, and effort.
You will need to write multiple codes to distribute reports to different stakeholders.
You have to be highly technical to create the software, maintain it, update it, and solve any bugs, problems, or glitches over time.
On top of that, you'll have no support, forums, or online community that can help you; you do it all yourself.
This is why you need no code solutions to help you automate the reporting process.
No-code
You can dedicate more of your time to higher-priority tasks using a no-code solution. Wouldn't it be great if you could spend one more hour daily on the development task at hand rather than creating reports?
To do that, you can choose one of the following options and share your Grafana dashboards as reports. Both provide report automation; however, only one offers the customization that you need.
Grafana Reporting
This feature is available in Grafana Cloud Pro, Grafana Cloud Advanced, and Grafana Enterprise. You can create a PDF or CSV report from one or more Grafana dashboards, schedule the report delivery and send it to a set of recipients via SMTP only.
With Grafana Reporting, you cannot share selected panels from a particular dashboard in the report. The report can only be created with the entire dashboard content. Does that mean you must create a separate Grafana dashboard with the required panels for each report? No! You can choose the alternative no-code solution – Skedler.
Skedler
Skedler is the only custom report automation tool for Grafana and Kibana. You can create multiple reports from one dashboard, unlike Grafana reporting. Adding the required dashboard panels to each report gets your job done. It makes your job much easier and you can accomplish more without risking any data breach.
The customization does not end there. Here are some other customization options available in Skedler:
Select the report format from various options – PDF, PNG, HTML Inline, Excel, and CSV.
Create branded reports per your company style guide using the Report Designer.
Set custom schedules for each report, including holiday schedules.
Share your reports via Outlook, Gmail, SMTP server, or Slack.
Why Skedler?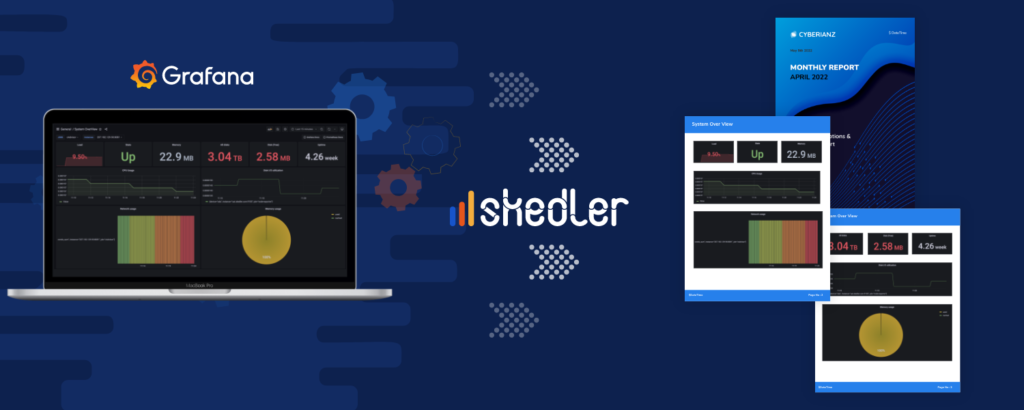 Skedler is an on-prem affordable and reliable solution for transforming Grafana dashboards into reports. It is a set-and-forget application that will save enormous time and money. The features available ensure that you would not have to worry about reliable and accurate report delivery. With Skedler, your stakeholders will not only be impressed with your professionalism but also your accuracy.
Regarding security, Skedler offers SSL encryption to secure the communication between your browser and the Skedler server. To enable smooth user authentication, Skedler offers LDAP integration. This enables LDAP users that are members of certain LDAP groups to automatically be added or removed as members of certain organizations in Skedler.
Now that we know what Skedler is, let's see what else it can do. Here are some of the unique Skedler Features you have to know about:
Report Templates – Create reusable templates and edit them if required for individual reports. Get the option to choose between two themes for each template – Light & Dark.
Report Scheduler – Schedule your reports daily, weekly, monthly, or yearly. You can also add holidays to ensure that your stakeholders do not miss out on valuable reports.
Burst Filters – Use your Grafana template variables to create multiple reports from a single dashboard using Skedler's burst filters.
Are you excited to see Skedler in action? Well, you need not wait for the installation to be over!
Sign up for Skedler Sandbox now!
In the Skedler Sandbox, you can access a sample Grafana dashboard and create sample reports, no installation is required. Once satisfied, install Skedler on your machine and get a free 15-day trial license with 250 reports.
Put your Grafana reports on auto-pilot with Skedler!